More Chicken Please
Here is a yummy treat for your tummy. It is healthy and delicious. There are many different dishes that you can create for a healthy, nutritious, and tasty meal that will not push you over the limit for you caloric allowance plus it is full of protein and low in fat. This recipe makes 8 servings.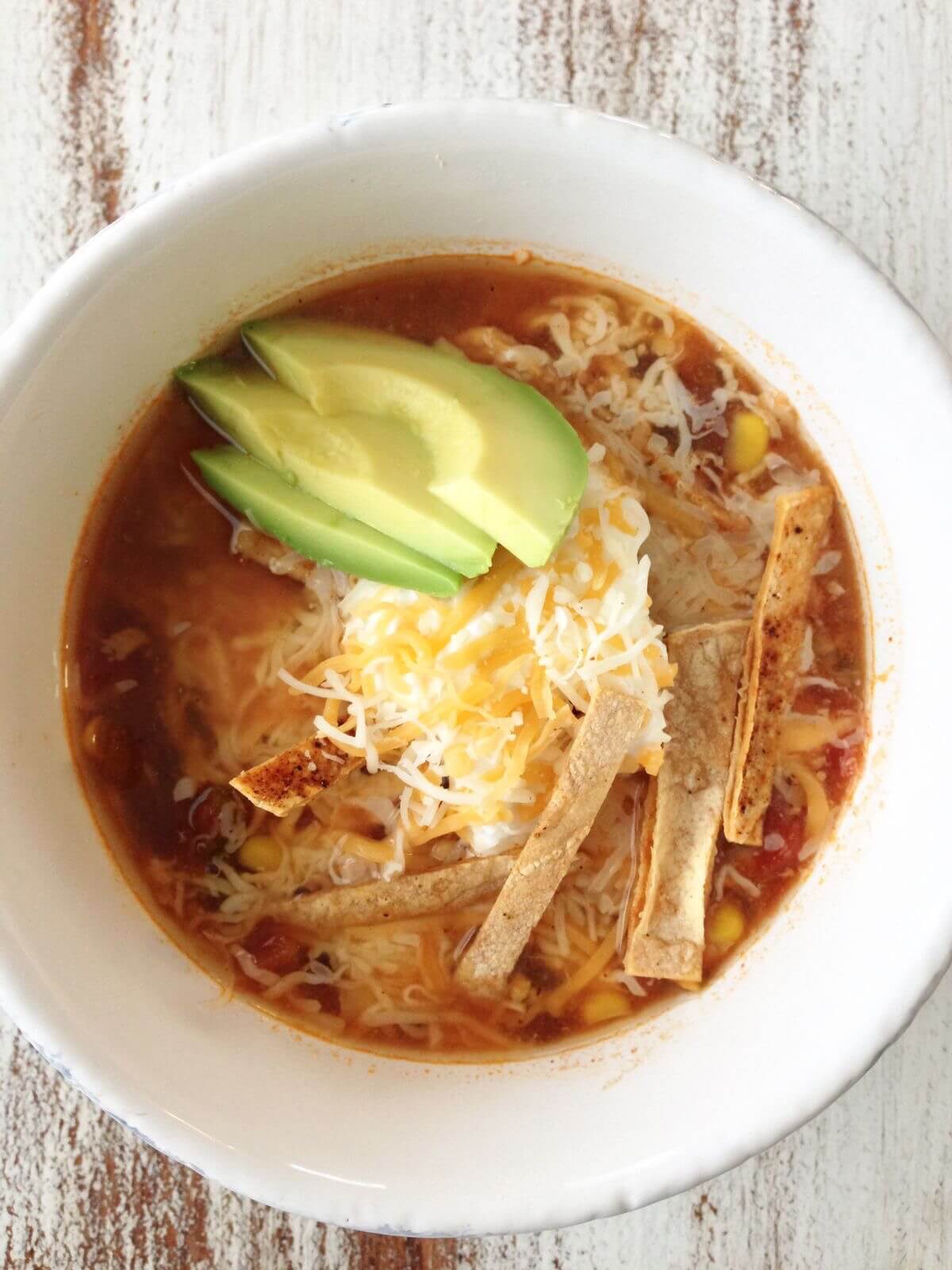 Chicken Tortilla Soup
Ingredients
3 tablespoons olive oil, divided use
1 large onion, diced
2 jalapeño peppers, diced small
2 cloves of garlic, minced salt, pepper and chili powder to taste
1 full chicken breast and 2 chicken thighs with bone in (about 2 pounds total)
4 cups of hot water
2 cups of hot chicken broth/stock
2 cups of diced ripe tomatoes or one 15-ounce can of diced tomatoes
1 15 ounce can of tomato sauce
3 tablespoon olive oil, divided use
2 cups chopped fresh cilantro, plus more for garnish
2 cups shredded cheddar or Cotija cheese for garnish
2 ripe avocados, sliced
1 dozen corn tortillas
Directions
In a Dutch oven, sauté onion and jalapeños in olive oil. Add salt and pepper to taste. Add garlic and heat through.
Remove skin and all fat from chicken. Score thickest part of breast a few times. Season and add chili powder to all pieces, then brown chicken on all sides. Add water and broth and bring to boil (chicken should be covered in liquid; if not, add a little more water). Simmer 45–60 minutes until chicken falls off bones. Remove chicken from broth to a plate.
Add tomatoes, tomato sauce and 1 cup cilantro to broth, and cook for another 15–20 minutes. After chicken is cool, shred meat into bite-size pieces and add back to broth. Heat oven to 400°F. Cut tortillas in half and cut halves into 1/8-inch slivers. Put in bowl with 2 tablespoons olive oil and 1 teaspoon salt. Add chili powder to taste, and mix well. Put seasoned tortilla strips onto cookie sheet and bake 10–15 minutes. Stir and bake 5 minutes longer (should be crisp but not burned).
To serve: Spoon soup into bowls and top with tortilla strips, cheese, cilantro and avocado.
Vegetarian option: Omit chicken, and use one can of black beans (or 2 cups of fresh cooked beans) instead. Swap out vegetable broth for chicken broth.
The next delicious chicken dish is guaranteed to be quick, easy, and full of flavor. Enjoy!
Makes 4 servings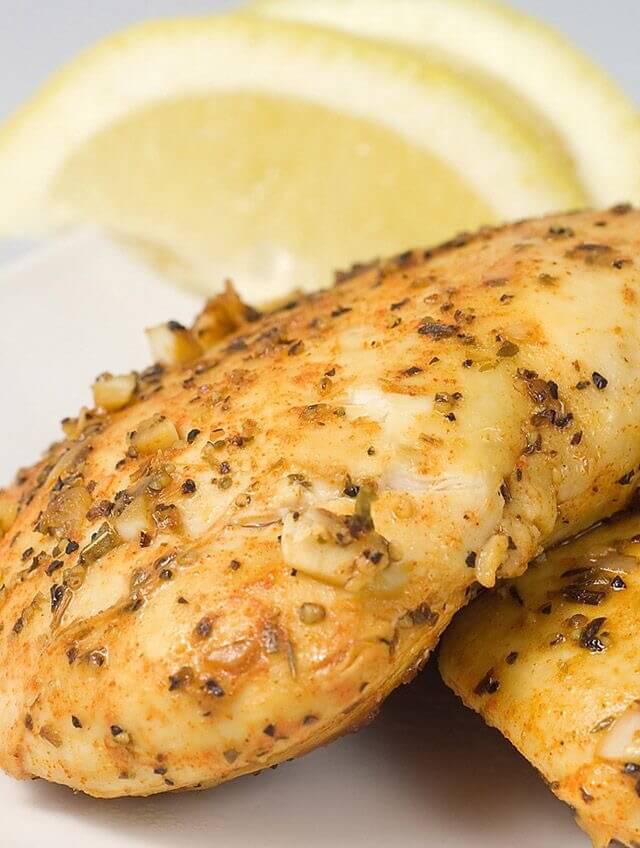 Lemon Chicken Breast
Total Time:1 hour Preparation:15 minutes Cook:35 minutes
Ingredients
1/4 cup good olive oil
3 tablespoons minced garlic (9 cloves)
1/3 cup dry white wine
1 tablespoon grated lemon zest (2 lemons)
2 tablespoons freshly squeezed lemon juice
1 1/2 teaspoons dried oregano
1 teaspoon minced fresh thyme leaves
Kosher salt and freshly ground black pepper
4 boneless chicken breasts, skinless (6 to 8 ounces each)
1 lemon
Directions
Preheat the oven to 400 degrees F.
Warm the olive oil in a small saucepan over medium-low heat, add the garlic, and cook for just 1 minute but don't allow the garlic to turn brown. Off the heat, add the white wine, lemon zest, lemon juice, oregano, thyme, and 1 teaspoon salt and pour into a 9 by 12-inch baking dish.
Pat the chicken breasts dry and place them over the sauce. Brush the chicken breasts with olive oil and sprinkle them liberally with salt and pepper. Cut the lemon in 8 wedges and tuck it among the pieces of chicken.
Bake for 30 to 40 minutes, depending on the size of the chicken breasts, until the chicken is done and lightly browned. If the chicken isn't browned enough, put it under the broiler for 2 minutes. Cover the pan tightly with aluminum foil and allow to rest for 10 minutes. Sprinkle with salt and serve hot with the pan juices.
And you thought that healthy eating needed to be bland. These are two selections that will stimulate your palate and tickle your taste buds.
Reference:
Healthy Food Gets Fabulous by Cappie Geis.
Barefoot Contessa – How Easy is That? by Ina Garten