Just a couple more days and the feasting will begin. There is more to this holiday than just food and drink, but so much emphasis is placed on it that we thought we would share some delicious dish ideas for you. Check these out!
STARCHES & POTATOES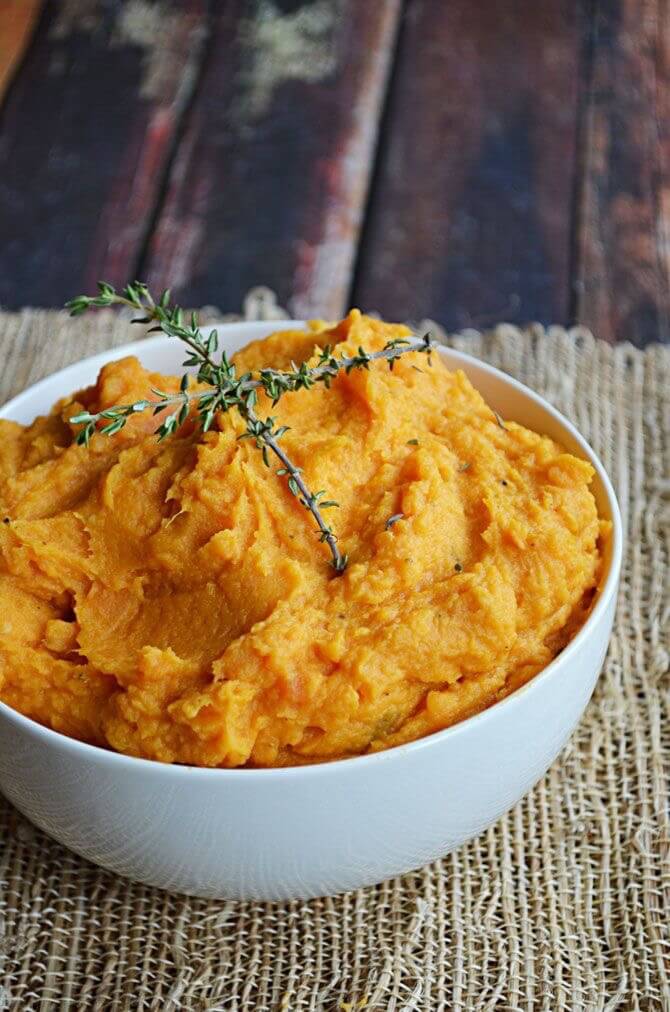 Slow Cooked Garlic Sweet Potato Mash
Thank goodness for this slow cooked sweet potato side which allows you to spend your time and energy on an elaborate main dish. Don't take it for granted though; this sweet potato recipe is light and delicious! Makes 5 servings at 3/4 cup each.
Ingredients:
2 lbs (4 medium) sweet potatoes, peeled & cubed into 1-inch pieces
1 tbsp butter
3 cloves garlic, crushed
1/2 cup 1% milk
2 tbsp light sour cream
salt and fresh cracked ground pepper, to taste
Directions:
Place the sweet potatoes in the slow cooker and add just enough water to cover them. Add salt to the water, then cover and set the slow cooker to 4 hours on low. Just before the potatoes are ready, melt the butter in a small sauté pan and sauté garlic until lightly golden. Drain the potatoes in a colander and return them to the slow cooker. Pour the garlic butter over them, add milk and sour cream and mash until smooth and creamy. Adjust salt and pepper to taste and keep the slow cooker set to warm until ready to eat or up to 2 hours.
Nutrition (per serving): Calories: 145; Total Fat: 3g; Saturated Fat: 2g; Monounsaturated Fat: 1g; Cholesterol: 9mg; Sodium: 103mg; Total Carbohydrate: 29g; Dietary Fiber: 3g; Sugars: 7g; Protein 3g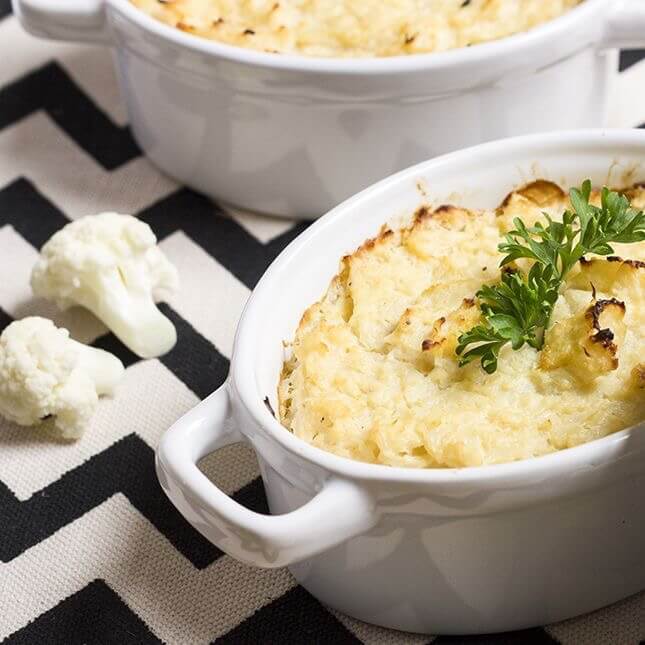 Cauliflower Mashed Potatoes with Dill
Enhance your mashed potato experience this year with some healthy additions. Cauliflower, dill and whole milk plain yogurt combines for a creamy mashed potato without using any butter.
Mashed potatoes are a wonderfully blank canvas that can be enhanced by adding other vegetables to the cooking water. Here, cauliflower adds nutty notes while dill stirred in at the end adds lovely green flecks and a pop of fresh flavor. Makes 10 servings.
Hands-on Time: 25 minutes Total Time: 55 Minutes
Ingredients:
2 lb Russet potatoes, peeled and cut into 1½-inch chunks
3 cups cauliflower florets
1 cup plain whole-milk yogurt (TRY: Stonyfield Organic Smooth & Creamy Whole Milk Plain Yogurt)
1/2 tsp sea salt, plus additional to taste
1 tbsp chopped fresh dill, plus small sprigs for garnish
Directions:
In a large saucepan or small stockpot on high, add potatoes and cauliflower and cover with cold water by 1 inch. Bring to a boil. Reduce to a simmer and cook until vegetables are very tender, 15 to 18 minutes. Drain vegetables and return to pot. Add yogurt and salt and mash with a potato masher to desired consistency. Stir in chopped dill and additional salt. To serve, transfer to a bowl and garnish with dill sprigs.
Nutrition (per serving): Calories: 88; Total Fat: 1g; Saturated Fat: 1g; Cholesterol: 3mg; Sodium: 120mg; Total Carbohydrate: 18g; Dietary Fiber: 2g; Sugars: 3g; Protein 3g
VEGETABLES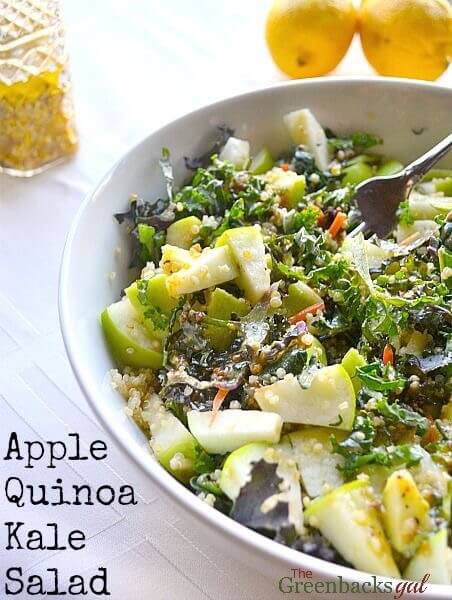 Apple & Quinoa Kale Salad
Crisp, refreshing apple meshes with quinoa and kale in this equal parts sweet and earthy salad. Add some crunch with chopped walnuts, pecans or almonds and you've got a texture savvy side dish. The recipe makes 6 side salads but can double as an entree for vegetarians or vegans if you up the serving size.
Ingredients:
For the Salad:
1/2 bunch Kale, chopped
1 large Apple, diced
1/3 cup dry Quinoa (certified gluten-free if necessary)
1/3 cup chopped Almonds
For the Vinaigrette:
2 tablespoon Dijon Mustard
1 tablespoon Honey
1/4 cup Extra Virgin Olive Oil
Pinch of Salt and Pepper
Directions:
In a medium saucepan, bring the quinoa and 2/3 cup of water to a boil. Once boiling, reduced heat, cover and let simmer for 15 minutes. It is done when there is no water left. Fluff the quinoa with a fork and let cool completely. Make the dressing by whisking all of the dressing ingredients together in a small bowl. Taste it to make sure you don't need to add more honey or mustard to match your flavor preference. Add the kale, apples, cooled quinoa and almonds to a large mixing bowl. Pour the dressing over the top and mix until the salad is completely coated with the dressing.
Nutrition (per serving): Calories: 191; Total Fat: 13g; Saturated Fat: 2g; Monounsaturated Fat: 8g; Cholesterol: 0mg; Sodium: 141mg; Total Carbohydrate: 16g; Dietary Fiber: 3g; Sugars: 6g; Protein: 4g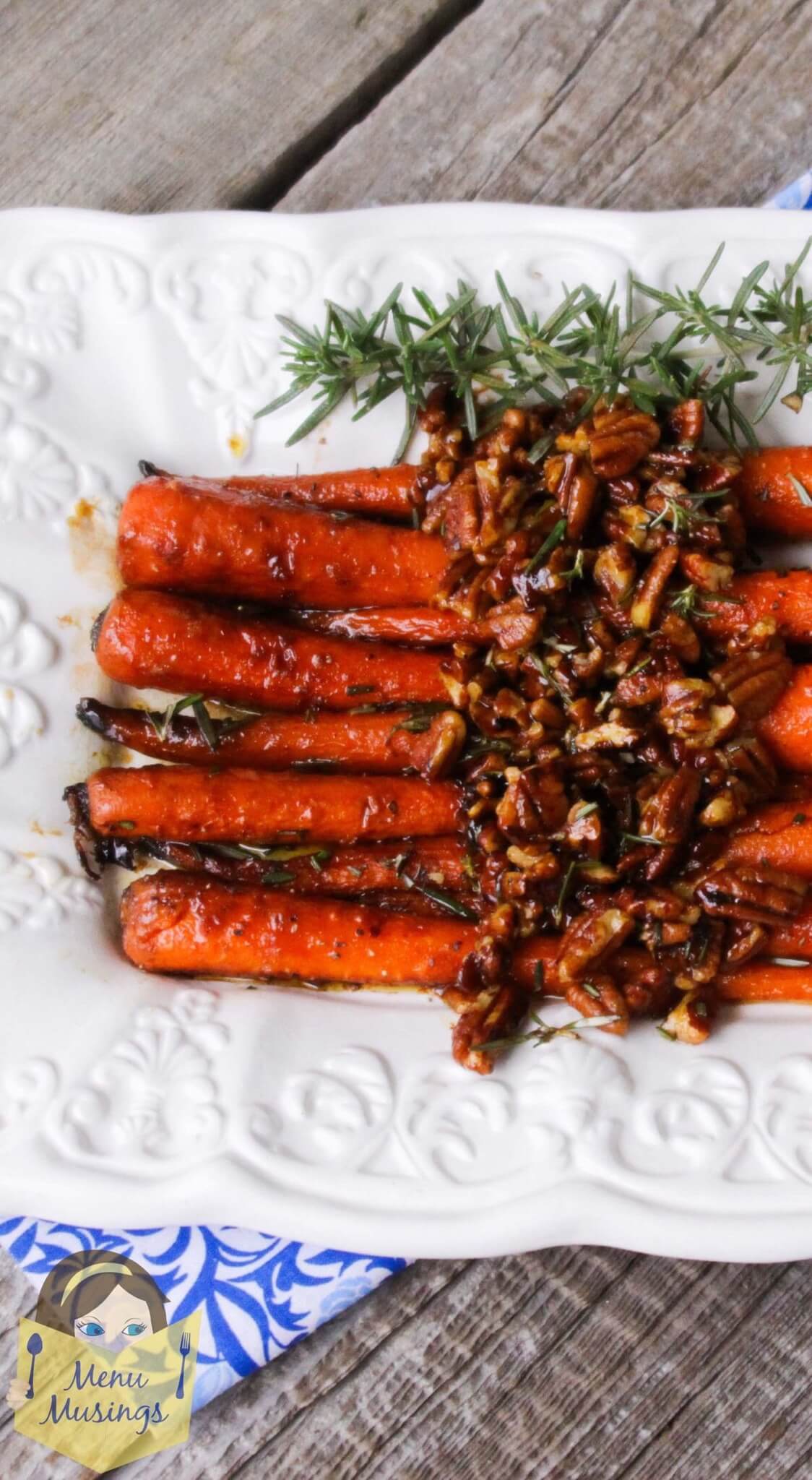 Maple Glazed Carrots
Looking for an dish that is high in fiber and flavor? Check out maple-glazed carrots featuring sweet, tender carrots lightly kissed by maple syrup and butter. This recipe serves 10 at 1/2 cup serving each, and pairs well with turkey or brisket.
Hands-on time: 20 minutes Total time: 30 minutes
Ingredients:
2 tbsp olive oil
2 lb carrots, peeled and cut diagonally into 1/4-inch slices (about 6 1/2 cups)
1/2 cup low-sodium chicken or vegetable broth
1/2 tsp sea salt, plus additional to taste
2 tbsp pure maple syrup
1 tbsp organic unsalted butter
1 1/2 tsp chopped fresh flat-leaf parsley
Directions:
In a 12- to 14-inch skillet on medium-high, heat oil. Add carrots and cook, stirring occasionally, until lightly browned and crisp-tender, about 8 minutes. Stir in broth and 1/2 tsp salt, scraping up any browned bits in the skillet with a spoon, and bring to a boil. Reduce to a simmer, cover and cook until carrots are tender, about 5 minutes. Uncover, increase heat to medium-high and cook until liquid has almost entirely evaporated, 1 to 2 minutes. Remove from heat and stir in maple syrup and butter, stirring until butter melts. Add traditional salt and sprinkle with parsley.
Nutrition (per serving): Calories: 84; Total Fat: 4g; Saturated Fat: 1g; Monounsaturated Fat: 2g; Cholesterol: 3mg; Sodium: 166mg; Total Carbohydrate: 12g; Dietary Fiber: 3g; Sugars: 7g; Protein: 1g
Reference:
Photo: Yvonne Duivenvoorden
By: Jill Silverman Hough
Photo: Candace Bell
By: Candace Bell – The Wheatless Kitchen
Skinnytaste