Sports Performance Training: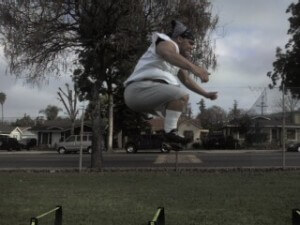 Are you looking for top-level creative sports specific training, well look no further. Whether you are an amateur athlete or a professional, we will increase your flexibility, speed, agility and strength.
If you are looking for the highest level of training in the OC/L.A. areas. We have worked with children ages 5 years old all the way to up to professional athletes. We have many customized program designs for all sports, all levels, and privates/small groups/ team training. We design based on the principle of S.A.I.D. – Specific Adaptations to Imposed Demands.
Our sports training philosophy is simple: Provide our athletes with the most effective, up-to-date education, training techniques, technology and coaching in a motivating, engaging training environment developing unmatched results. We serve not only as coaches, but as mentors and diplomats for athletic performance. We are dedicated to changing the lives of young athletes not only on the field of play, but off as well. Our goal is to have all of our athletes become positive contributors to society.
Our philosophy expands into the assortment of services we provide our athletes:
Improved Flexibility & Agility
Increase Strength, Speed & Endurance
Power & plyometrics
Core training
Joint integrity
Hand-eye coordination and reaction drills
Recovery & rejuvenation
Sports nutrition
Athlete life skills: F.L.A.G (Foundation, Leadership, Accountability, Goal Setting)
Our training center features:
Turf field
Hammer Strength Training Equipment
Power Platform
TRX Suspension & RIP Training
Bands
A immense selection of specialized equipment designed to produce athletic results.
Whether you are a beginner or a professional athlete, our programs will provide you with the tools and skills that will allow you to take your elevate your game to the next level. Our coaching experience and client list speak volumes about the level of teaching, motivation, and results that we provide our athletes.
Whether your dreams include:
Dominating your opposition
Starting line up for your team
All-conference selection
College scholarship
Playing professional sports
MVP selection
We have trained them all, from the 5 year old young athlete that needs to learn the proper running, footwork mechanics, or doesn't yet match adequate strength, to numerous high profile award winning professional athletes. We train athletes in every sport to PERFORM AT THEIR BEST.
Regardless of your fitness level, GIT RIGHT SPORTS PERFORMANCE & FITNESS will help you fulfill your dreams and make them a REALITY.