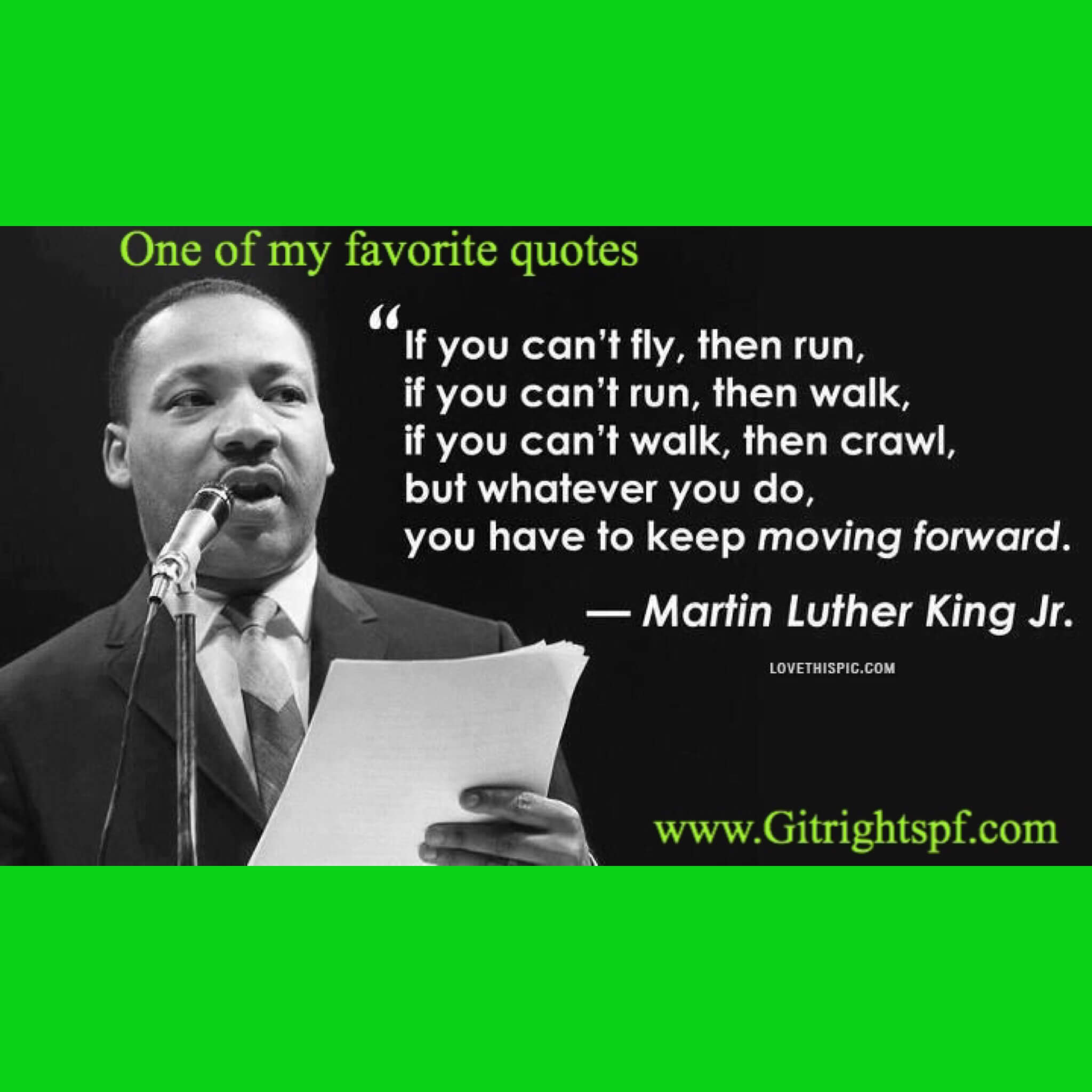 Where is your level of focus today? For those of you that are into NFL Football, yesterday's games had so many twists and turns that a roller coaster at Magic Mountain couldn't touch them. It was intense from the beginning coin toss all the way to the final play. What excitement and disappoint depending on what team you were rooting for or what team you play for. Every person on all the teams had to perform at a peak in order for them to succeed. If you watched the games, you could see the crucial plays that changed the games momentum away from one team quickly to the other. By the same token, in life there are many plays that can go your way and many may not, either way you still have an outcome to face.
Today is a day of celebration for a man that made some critical plays to make our world a better place. That man is Dr. Martin Luther King Jr. In Denver, Colorado, one of the largest parades to honor Martin Luther King Jr. happened. The parade, started at 10 a.m. in City Park and ended at Civic Center Park downtown. Thousands attended the event to commemorate the life of the civil rights leader. Denver Mayor Michael Hancock estimated 40,000 people marched along the parade route, which would shatter previous years' attendance records(9News).
During Dr. Martin Luther King, Jr.'s leadership of the modern American Civil Rights Movement, from December, 1955 until April 4, 1968, African Americans achieved more genuine progress toward racial equality in America than the previous 350 years had produced. Dr. King is widely regarded as America's advocate of nonviolence and one of the greatest nonviolent leaders in world history (The King Center).
His inspiration came from his Christian faith and the peaceful teachings of Mahatma Gandhi. Dr. King led a nonviolent movement in the late 1950's and 1960's to achieve legal equality for African-Americans in the United States. Martin Luther King, Jr. used the power of words and acts of nonviolent resistance, such as protests, and civil disobedience to achieve change. He went on to lead similar campaigns against poverty and international conflict, always maintaining his principles that men and women everywhere, regardless of color or creed, are equal members of the human family.
Dr. King's "I Have a Dream" speech, Nobel Peace Prize lecture, and "Letter from a Birmingham Jail" are among the most revered speeches and writings. His accomplishments are now taught to American children of all races, and his teachings are studied by scholars and students worldwide. He is the only non-president to have a national holiday dedicated in his honor. Can you see how our world is a better place?
In addition, in 1955, he was recruited to serve as spokesman for the Montgomery Bus Boycott, which was a campaign by the African-American population of Montgomery, Alabama to force integration of the city's bus lines. After 381 days of nearly universal participation by citizens of the black community, many of whom had to walk miles to work each day as a result, the U.S. Supreme Court ruled that racial segregation in transportation was unconstitutional. In 1957, Dr. King was elected president of the Southern Christian Leadership Conference (SCLC), an organization designed to provide new leadership for the civil rights movement. He would serve as head of the SCLC until 1968. Dr. King would emerge as the most important social leader of the American civil rights movement.
Moreover, in 1963, he led a coalition of numerous civil rights groups in a nonviolent campaign aimed at Birmingham, Alabama. The brutality of the city's police led to a greater push in civil rights. It was during this campaign that Dr. King drafted the "Letter from a Birmingham Jail," the manifesto of his philosophy and tactics. Dr. King was one of the driving forces behind the March for Jobs and Freedom, more commonly known as the March on Washington, which drew over a quarter-million people to the national mall. It was at this march that Dr. King delivered his famous "I Have a Dream" speech, which cemented his status as a social change leader and helped inspire the nation to act on civil rights. At age 35, in 1964, Dr. King became the youngest person to win the Nobel Peace Prize. His acceptance speech in Oslo is thought by many to be among the most powerful remarks ever delivered at the event, climaxing at one point with the phrase "I believe that unarmed truth and unconditional love will have the final word in reality. This is why right temporarily defeated is stronger than evil triumphant." In 1964, partly due to the March on Washington, Congress passed the Civil Rights Act, which eliminated legalized racial segregation in the United States. The legislation made it illegal to discriminate against blacks or other minorities in hiring, public accommodations, education, or transportation, areas which were still segregated in many places (The King Center).
Furthermore, in 1965, Congress passed the Voting Rights Act. This legislation resulted directly from the Selma to Montgomery, Alabama, March for Voting Rights lead by Dr. King. The Voting Rights Act was an important set of laws that eliminated the remaining barriers to voting for African-Americans. Between 1965 and 1968, Dr. King shifted his focus toward economic justice.
Dr. Martin Luther King, Jr.'s nonviolent leadership ended tragically on April 4th, 1968, when he was assassinated at the Lorraine Motel in Memphis, Tennessee. Dr. King's funeral ceremony was attended by high-level leaders of all races and political stripes. In 1968, Dr. King's wife, Mrs. Coretta Scott King, founded the Martin Luther King, Jr. Center for Nonviolent Social Change, which she dedicated to being a living memorial aimed at continuing Dr. King's work on important social ills around the world (The King Center).
Thank you Dr. King! It is great to look at what Dr. King's work did for our world. Regardless of your skin color, equality has been fought and won, perhaps before you were even born. This came about from critical and crucial decisions made by Dr. King. He made plays that changed the course of humanity!
Reference:
9News.com
The King Center – thekingcenter.org